The 2019 West African Football Union (WAFU) Cup of Nations is currently in full swing in Thiès, Senegal, and Broadcast Rental is working closely with Fox Sports to bring live action from every day of the tournament to Africa and beyond.
This biannual event for West African countries, running from 28 September to 13 October, is the sixth edition of the WAFU Cup of Nations. The 2010 WAFU Nations Cup (as it was then known) hosted in Nigeria was the first edition of the event, although the tournament was also held in 2002 in Ivory Coast but was cancelled due to civil war in the host country.
The Cup was adopted by ESPN Africa in 2002 to focus on local content. The 2017 edition was the first covered by Fox Sports and was a resounding success, reaching more than 200 million households worldwide for the final with Ghana versus Nigeria.
"We needed a set up that's easy to transport in the cargo hold of a commercial aeroplane and it had to be lightweight with a small footprint. Everything we created is based around the size of a pallet; even the production desks our inhouse R&D department."
Fox Sports the Netherlands needed some external help in 2017 to make this complex production work, so it called on Fabriq Media Group to be host broadcaster on its behalf. Fabriq has again produced the event on behalf of Fox Sports the Netherlands this year, making it a co-production.
Henk van Meerkerk, head of production at Fox Sports, spoke to SVG Europe from Senegal where he is currently working on the broadcast for the event. He explained: "The WAFU Cup of Nations didn't fit into our regular workload in the Netherlands. So for the second WAFU Cup Of Nations, we again approached Fabriq Media Group for the host broadcast production.
"Fabriq Media Group is a company also based in the Netherlands specialised in host broadcast production in sports and events all around the globe. After our successful collaboration in 2017, we decided to continue our relationship for this year's edition in Senegal."
The media output this year is a collaboration between ESPN Africa and Fox Sports the Netherlands (Fox Sports has been rebranded to ESPN in Africa since Disney became owner of the business).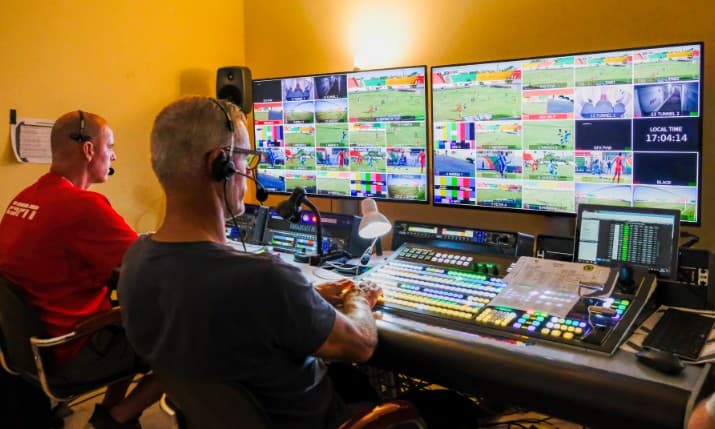 New flightpack kicking off in Senegal
Van Meerkerk commented on Fox Sports and Broadcast Rental's relationship, which has led to a brand new UHD 4K-ready flightpack designed by Broadcast Rental for this kind of challenging event being used in use in Senegal for the first time: "Because of the long relationship between Fox Sports the Netherlands and Broadcast Rental, WAFU was a unique opportunity to extend the corporation.
"Broadcast Rental built a scalable and lightweight UHD 4K-ready flightpack that can be transported easily on a commercial aeroplane, ideal for a complex production such as the WAFU Cup of Nations in a challenging environment in Senegal," van Meerkerk said.
Fox Sports is producing multi-lateral worldfeed coverage going out to 28 free-to-air broadcasters in Africa and 35 countries worldwide. All 22 football matches from the group stage to the finals will be broadcasted live, with a total of approximately six hours a day of live coverage.
Added van Meerkerk: "Alongside the live coverage we're creating scenery shots, highlight packages and social media content on a daily basis."
A crew of 26 people from Holland were flown into Senegal for the live production. Said Martijn Swart, CTO at Broadcast Rental, also on the ground in Senegal: "The signal is distributed from the Fox Sports Playout in Hilversum, the Netherlands, to the rest of the world."
Swart commented on the new flightpack: "We've built our flight pack based on 'traditional' HD-SDI; the Ross Ultrix matrix together with Axon Cerebrum control surface is at the heart of the system. We've chosen to use IP in some of the key aspects of the set up, such as our RTS Odin Intercom, tally, KVM extension and audio.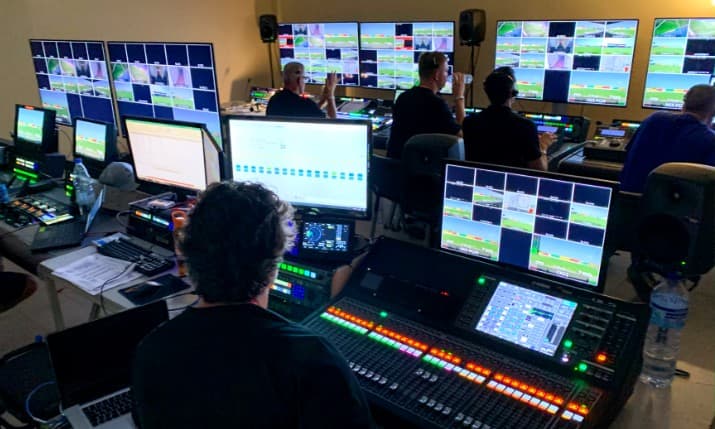 Flexibility and portability
"At the moment the set up is prepared for 16 camera channels, but by adding another flightcase this is easily expanded to 24," continued Swart.
"The customer can decide the camera brand and type of camera; at the moment Sony HDC-2500's are used, but this could also be a different brand or even large sensor cinema camera's."
Van Meerkerk added that this flexibility of the flightpack is important for Fox Sports' customers: "We like to adapt our set up to the customer's needs as much as possible, for any type of production."
According to Swart, power and portability were key factors when creating this flightpack. "We wanted to build a powerful flypack that we could use for the football tournament in Senegal and then for other larger events. It's the first time we've created a dedicated flypack like this, but we've worked with Ross Video before and were extremely impressed with the Ultrix platform and how much production power it offers in such a compact unit.
"It made sense for us to put Ultrix at the heart of this flypack and the software-defined nature of the product means it's easy for us to turn on additional features as and when we need them," continued Swart.
"We've also included XPression graphics and a Carbonite production switcher in the kit because they're both proven and reliable solutions."
What is innovative about this flightpack is its diminutive size, said Swart: "We needed a set up that's easy to transport in the cargo hold of a commercial aeroplane and it had to be lightweight with a small footprint. Everything we created is based around the size of a pallet; even the production desks our inhouse R&D department designed can be easily stacked on a pallet and transported all over the world. Size and weight is key, that's also reflected in the equipment choices we've made.
"The production set up is built inside the stadium in a six metre by 12 metre area and the four racks of equipment are in a separate room," he noted.
Ideal experimental environment
From Broadcast Rental, Fox Sports is using seven regular camera channels, one super slow motion, two controllable mini cameras in the goal, two in the tunnel, a live drone feed, and MobileViewpoint's WMT phone application for live contribution from anywhere in Senegal. Using DJI Osmo stabilised cameras also allows the camera operators to film inside the various team busses.
The WAFU Cup of Nations is an ideal environment to experiment with new cameras and technology, said van Meerkerk, who explained: "By using the live drone and mobile phones in the city we are able to enhance our broadcast in a way that we've not yet been able to back home in the Netherlands."
"Working in Africa provides all kinds of challenges. Logistics, power, local politics, heat and humidity. Health and safety, security, and more. But overall, everything went very smoothly."
Swart commented on the challenges that faced the team in producing the broadcast for the event in Senegal: "Working in Africa provides all kinds of challenges. Logistics, power – we brought in our own twin-pac generator – local politics, heat and humidity. Health and safety, security, and more. But overall, everything went very smoothly and we didn't encounter big issues."
Broadcast Rental, which is celebrating its tenth anniversary this year, is set to use the new flightpack for future events. Swart said: "Due to the modular set up of the flightpack, it's ideal for any type of production worldwide; sports, events or music. It's ideally suited for multi-day productions anywhere in the world."