From 2016 Broadcast Rental company has had strong ties with the Formula 1 circus, where, behind the scenes – or when it comes to Zandvoort: behind the dunes – it functions like a well-oiled machine, to use an appropriate term. Frank Steenbeek describes a pretty complex operation.
As Chief Operating Officer (COO), he calls himself "a bit of a jack-of-all-trades", especially when it comes to the global car racing spectacle where Broadcast Rental has such a strong presence. "I make sure everyone is able to do their job with the right tools," says Steenbeek, who has been with the company since 2017. "I needed a little time to master the expertise we have – there is a huge technological development and it can be tricky, especially when it comes to wireless – but at some point our Formula 1 operation was pretty transparent, so I could get focus on the frequency issue."
That part of Steenbeek's job is as crucial as it is, perhaps, underestimated. "At the beginning of the year, I create a framework with agreements that we made about who goes where and what frequencies we use where. Our tower of strength, Laura de Leeuw, then organises all the flights, hotels and local car rental. After that we just need to stay on top of new developments. The operation then basically runs itself. It may sound a bit arrogant, but we rarely have any issues with our systems, because we are deeply embedded in the FOM organisation (Formula One Management, the Formula One Group's operational organisation that manages broadcasting rights, red.) and are able to switch gears very quickly. It also helps that Jeroen Klaver and Bastiaan Woering, our dedicated Formula 1 crew, are present at each race and are able to manage or solve everything by themselves."
"We are essentially the biggest supplier of unilateral facilities at the circuit, even though we are only a small operation."
Seven-strong team
"That strong dedicated crew and the fact that we can upscale the local infrastructure with a relatively small amount of people is our unique selling point," Steenbeek realises. So, for Broadcast Rental The Dutch GP at Zandvoort is really business as usual, except on a much larger scale, since for Ziggo Sport this is a home race.
"That is why we have a seven-strong team present. Bastiaan is the regular technician for commentator Olav Mol and reporter Jack Plooij, and there are two people to man the four extra wireless cameras that are used during the studio programme on location. On top of that, through Faber, the organisation requested two systems that have to cover the entire circuit, we supply Radio 538 with a fan zone system, and we are also active for MTV 3 Finland, BBC Radio and de NENT Group. I perform a kind of twin role, in which I offer production support to Ziggo/Southfields and act as a point of contact for all parties involved."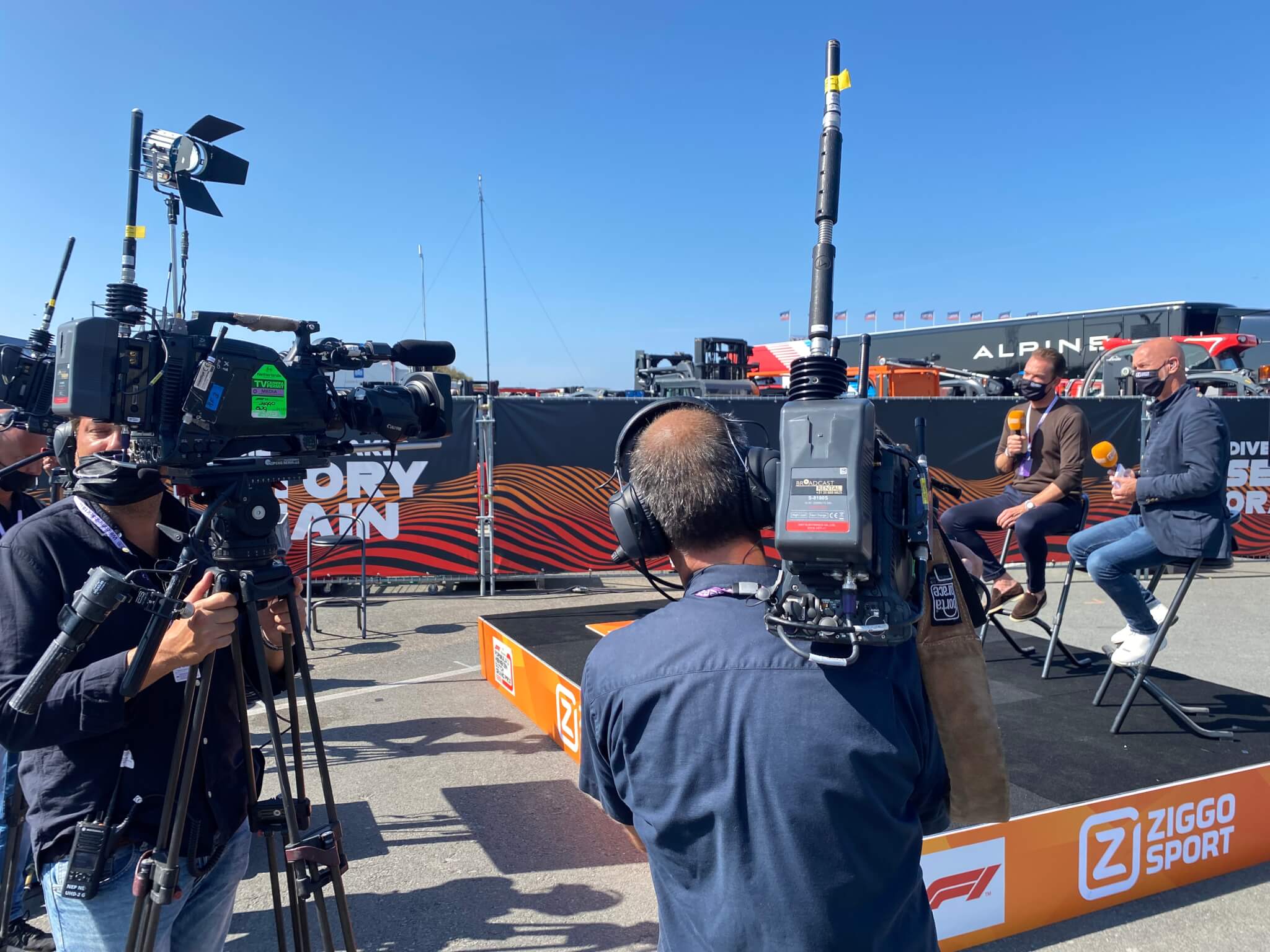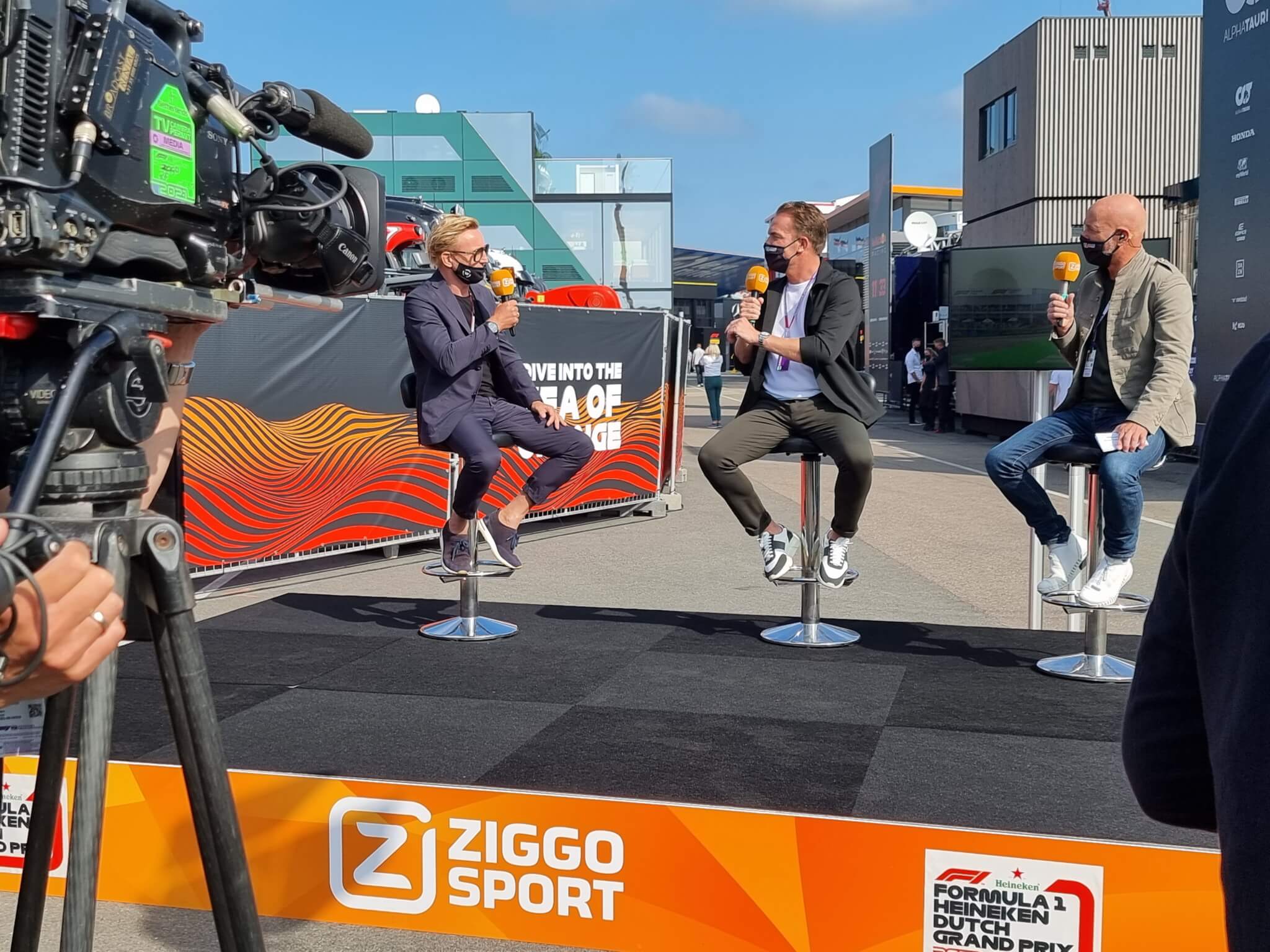 Complex triangle
"The frequency allocation was also a bit more complicated this time," states Steenbeek, "All requests were collected via the Formula 1 organisation, with Audio Electronics Mattijsen coordinating everything and the Agentschap Telecom then allocating the systems. It is a complex triangle, but it does mean everything runs smoothly on the day. The AT checks the equipment before we can actually use it. This takes time, so we try and get our turn as early in the week as possible. Of course, everyone else wants the same thing, so it will be a bit of a struggle to arrange this with mutual respect…"
"Normally, production companies or TV stations have to put in their own request for these frequencies with the Formula 1 organisation, but for half the races we do this on their behalf, because we have knowledge of the equipment that often leads to specific questions. The rest of the time, you put your requests directly to the local 'telecom agencies'. In Italy you get in touch with the ministry, and in Brazil it is a commercial party."
"We are essentially the biggest supplier of unilateral facilities at the circuit, even though we are only a small operation." Formula 1 has its own system and of course there are lots more other foreign parties that all have their own wireless equipment. That all has to fit into the spectrum and it can lead to strange situations. In Bahrein, military installations can suddenly be switched on, and in Brazil we need a mile-long cable, because of the huge distances. We know most circuits like the back of our hand, but we don't have those kinds of details about Zandvoort yet. But I'm not at all worried that we'll go off track there…"
No-brainer
NENT Group has acquired the rights to Formula 1 for the next three years. You are already doing business with them, so is Broadcast Rental still assured of this amazing job?
"First of all, it is still unclear how NENT will be approaching this. The fact is that the GP races will be shown on their Viaplay platform and that six of them will probably be shown on an open channel. I can't predict how NENT will be rolling out the studio and connectivity in The Netherlands, but they have indicated that they are very satisfied with the services that we have delivered over the years. I don't want to call it a no-brainer, but we hope to reach an agreement about delivering systems for multiple countries and in multiple languages. We can easily draw on our current activities."
"We get in touch every week to discuss the coming race: how are we doing, what are the plans? Apart from unilateral issues that can be dealt with on the spot, we can also take care of connectivity from the circuit to the different countries. That happens through our own MCR in Hilversum. Whether it is Australia or Belgium, the signals arrive with us through a fibre-optic connection and we do all the checks, both with the guys on location and the countries where it needs to go. That continues all weekend."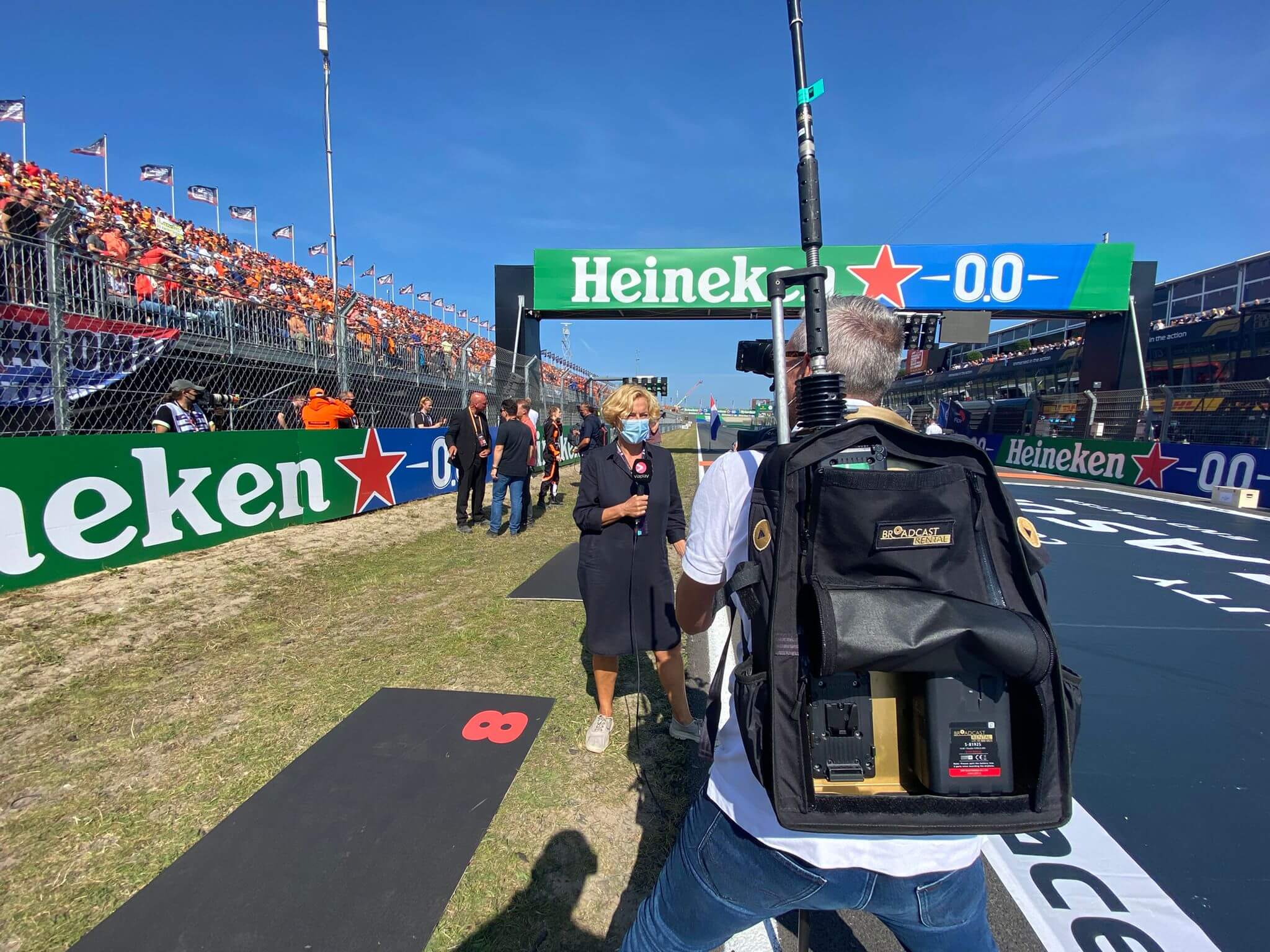 Flexible
"Formula 1 is an ongoing circus that normally starts in Australia and finishes in Abu Dhabi," continues Steenbeek. "But just like last year, we have to be really flexible once again. One race is cancelled, another is added. That was the case with the Canadian Grand Prix, which was cancelled and then replaced with Turkey. This meant there were two races in Austria again, and Turkey was put back on the calendar after all. Of course, it has to all be manageable for our guys as well. Fortunately, the FOM does take that into account, but when it comes to booking the trips and accommodation, Laura has a big job making all these changes and keeping track of all the changes in the racing calendar."
"When it comes to transporting the equipment, we are well prepared, because we send a number of sets around the world on container ships. Together with our regular carrier, we adapt to the racing schedule. There is one core set, with about seven hundred kilos of equipment, that is sent to all the races by plane. On top of that, we have five separate sets that are transported in sea containers. The set for Australia is sent in early February. Once there, we unpack our gear, and after the race we pack it all up again. The carrier then makes sure it arrives in Singapore on time. Especially in faraway destinations, it is easy and cost efficient to have multiple sets in different locations. Especially at the end of the season when we travel from America, Mexico, Brazil to Abu Dhabi and Saudi Arabia."
Knowledge-exchange
Broadcast Rental has its hands firmly on the wheel within Formula 1, that much is clear. This is also due to its business culture, observes Frank Steenbeek. "We strive to exchange as much knowledge as possible. That doesn't mean that we don't like working with freelancers, but, first of all, we want hold on to that know-how, because what we have created is rather complex and unique. And second of all: when people are interchangeable, you can deploy an equally knowledgeable colleague whenever someone falls ill; you are not dependant on one person. For the sake of our clients and the continuity, we have decided to send a regular crew whenever that is preferred. Reporters and commentators do enjoy working with the same people every time. After all, they develop a bond together."
"That commitment to the largest travelling media circus in the world is not suited to everyone. Some guys could not handle being a part of that all the time. Of course, that depends on your domestic situation. But Jeroen and Bastiaan are true ambassadors. They love it. And as employers we have a role to play too. When there is a two-week window between Singapore and Japan, we tell them: If you want to stay there for a while and have your partner come over, that is possible. That makes it more bearable for them too."
For the Dutch GP in Zandvoort, Broadcast Rental could have just let the crew come in from Hilversum. Steenbeek: "But we know how it normally works. In Spa or Monza, you can spend hours in endless traffic jams. That is why we booked our accommodation in Zandvoort a year ago, at 300 metres from the main entrance. We arrive, go to bed, have a nice breakfast in the morning and then saunter over to the circuit, without dealing with traffic jams and parking tickets. Those are the practical advantage of having a lot of experience."